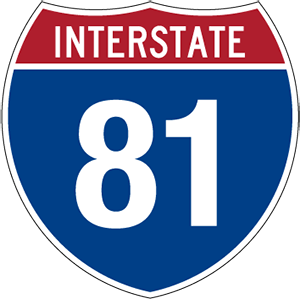 I-81 Exit 264. US 211 East to US 340 South
The Town of Shenandoah is a small, rural community of 2,335 citizens, nestled between the Blue Ridge Mountains and the Massanutten Ridge, along the banks of the Shenandoah River in Page County, Virginia.
Shenandoah is only 25 miles from the City of Harrisonburg, an hour's ride from Charlottesville, and a short 90-minute trip from Northern Virginia. The Town is also located just 2 hours from Richmond, our Commonwealth's State Capital.
Shenandoah is located in the heart of the Shenandoah Valley's tourism industry, being within a 30-minute drive of Luray Caverns, Massanutten Resort, Shenandoah National Park/Skyline Drive, and the New Market Battlefield.The Town of Shenandoah originated in the early 19th-century due to the area's proximity to an abundance of natural resources. The presence of iron ore, wood for making charcoal, high grade limestone, and the Shenandoah River helped Shenandoah's original founders, Daniel and Henry Forrer, establish the community's iron industry. The first post office was established in February 1838 under the name of Shenandoah Iron Works.
On March 8, 1890, the name of the post office was changed from Milnes to Shenandoah. Thereafter, the name of the town was changed, by an Act of the General Assembly, from Milnes to Shenandoah City. During the following years, the word "city" was informally dropped from the town's name.
In 1890, thanks to the efforts of the Shenandoah Land and Improvement Company, Shenandoah experienced a sudden and rapid growth known as the "boom." Most businesses established themselves on one side of First Street so that they could face the railroad yards and the Shenandoah River. In 1891, the "boom" collapsed and a general depression settled over the entire country. The Town maintained a degree of prosperity due to the continued operation of the Furnace Company and the Railroad. The Norfolk & Western Railroad (N&W) took over the Shenandoah Valley Railroad in 1891. In 1982, N&W Railroad merged with Southern Railroad to become Norfolk Southern. The train station, located on First Street, remains the only active station between Roanoke and Hagerstown.
The Town of Shenandoah is currently in the middle of a comprehensive revitalization effort. With more than a million dollars in grant money and with the support of numerous community, state, and federal organizations, Shenandoah has begun its preservation of the past and its journey into the future.
Location: Historic Landmark/Visitor Center. Civil War trails, active rail yard – watch trains & shop downtown! Recreation – Shenandoah River/public boat dock/Big Gem Park. Within 30 min of many top Valley attractions!
[wp_mapbox_gl_js map_id="29768"]